Welcome Bayou Wilderness RV Campground
You can now call or text us at 337-896-0598
Clean, Peaceful, & Relaxing - The Way Camping Should Be
Welcome
to Bayou Wilderness RV Campground. We are but a hop, skip and a jump from famous Lafayette, Louisiana. Did you know Lafayette has more restaurants per capital than any other city in America? The only thing better than a fantastic Cajun meal is enjoying the beauty of our State. What better place to do that than with us? We have something for everyone. Nature lovers will enjoy our impeccable landscaping and the diversity of our local fauna. Active people and sportsman may want to spend their time catching some trophy fish or perhaps  engage in a spirited match of horseshoes. Perhaps you just want to relax by the pool with your favorite beverage and a warm Louisiana breeze. Whatever your style may be, we welcome you to stay with us where you will receive true southern hospitality.
You can now call or text us at 337-896-0598
Reservations are strongly recommended, especially during holidays & festivals. (See calendar below.) We also have special celebrations here at the resort for Easter, Memorial Day, 4th of July, Labor Day, & Halloween. Come join us and "pass a good time!"
Most of our sites offer 30- or 50-amp connection and we are indeed big rig friendly. All our sites are pull throughs and you can enjoy space with a peaceful Cajun vista. Our campground boasts with well-maintained landscaping that accentuates the local flora. We welcome groups and families. The Cypress Room can be the place to meet up and create memories. What better place to do this than beautiful Lafayette! Like to stream your favorite shows but are worried about peak times where you might get kicked off because too many people have the same idea as you? Well worry no more.  Our park has Fiber Internet and for you traveling executives we have phone and fax services too. Don't worry about missing that business call or receiving that contract in your email, we've got you covered.
Want some more fun facts about our resort? Most of our roads are indeed paved with some interior roads with gravel. We love our fur babies and welcome them at the campground. The park is also open YEAR-ROUND so you can enjoy the changes in season. Each site is complete with a fire pit and we encourage you to fire up the S'mores.
Explore Our Campground Map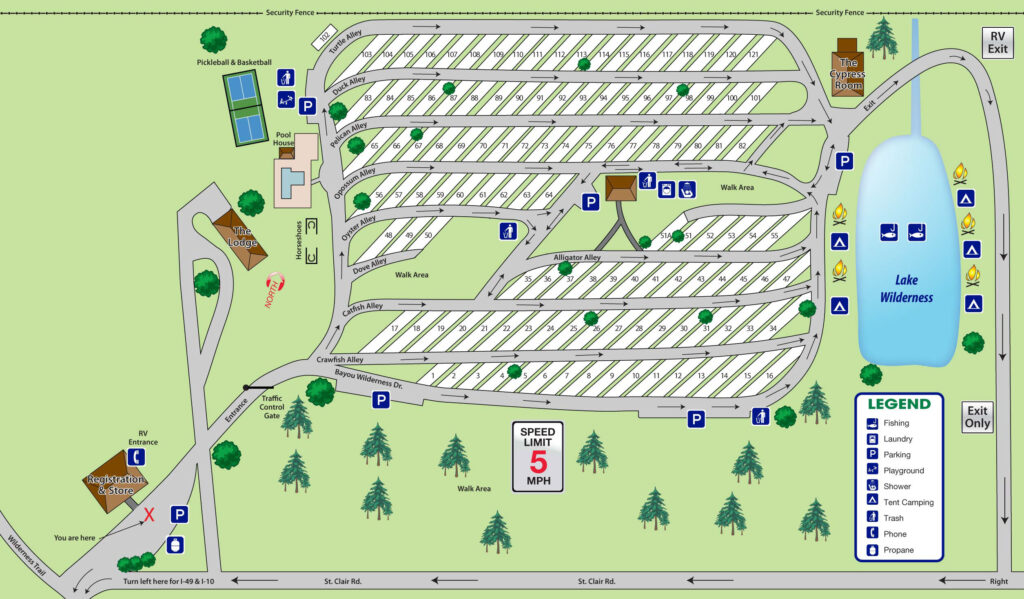 Interested in learning where to go and how to get there? The map attached is not exactly to scale but it is close. You can download our map which is mobile friendly in case you lose your printed publication. If you have not received one yet, please visit our office so we can give you one that is complete with our rules and regulations.